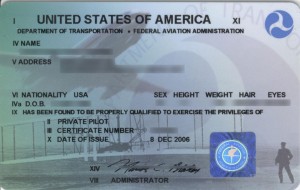 So you want to become a private pilot here in Pompano Beach?
Congratulations!
This is what is required to be eligible to take the check ride for your Private Pilot License with your Pompano Beach Chief Flight Instructor:
The FAA requires a minimum of 40 hours of flight which include various flight requirements.
Please know that the national average student needs around 75 hours of flying time before he/she earns his/her private pilot license.
I have had students that went to their check ride with as little as 40 hours and some with as much as 120 hours.
Each student is different and grasps the information and flying skills differently.
Call or email me with questions about your goals of becoming a pilot.
Click the following link to see the detailed requirements needed to get your private pilot license in Pompano Beach.
View info about the Instrument Rating in Pompano Beach
View info about the Single Engine Commercial License in Pompano Beach
View info about the Multi Engine Commercial License in Pompano Beach
Contact Pompano Flight Training by filling out the form to the right of this page.